LPKF ProtoFlow E - PCB Prototyping Machine (Reflow Oven)
LPKF ProtoFlow E - Successful Soldering in Minutes
Fully convectional
Lead-free reflow process
Temperature up to 320°C
Multi-zone temperature/time profiles
USB connectivity
Features and Benefits
User-Friendly
LPKF ProtoFlow E is an extremely user-friendly convection oven suitable for lead-free SMD soldering of printed circuit boards up to a size of 160 x 200 mm.
The intuitive menu navigation makes programming profiles and setting parameters so easy that beginners and professionals alike can successfully solder a circuit board in just a few minutes. The ergonomic design includes four navigation buttons and an LCD screen; these operating elements provide access to all oven functions.
As an additional option, the LPKF ProtoFlow E can be connected to a PC via a USB interface, making profiling even faster and more user-friendly.
A drawer window offers a view of the lighted process chamber, and the USB connection allows the LPKF ProtoFlow E to also be programmed from a PC for faster and easier process analysis
Manual Operation, Higher Control
ProtoFlow E is manually operated; a large viewing aperture and an illuminated process chamber allow the operator to see the progress of the reflow process and, if necessary, make immediate corrections. The heating element and the precisely controllable air temperature ensure even heat distribution over the entire PCB surface.
Reflow Soldering
To provide a reliable connection between SMD components and the PCB circuitry, soldering by solder paste deposits is the common technology. LPKF ProtoFlow E is a very economical and easy-to-use solution for reflow soldering PCBs.
Specifications 
Temperature limit: 320 °C (608 °F)
Reflow oven max. material size: 160 mm x 200 mm (6.3" x 8")*
*perfectly matched to the LPKF ProtoPrint E
Share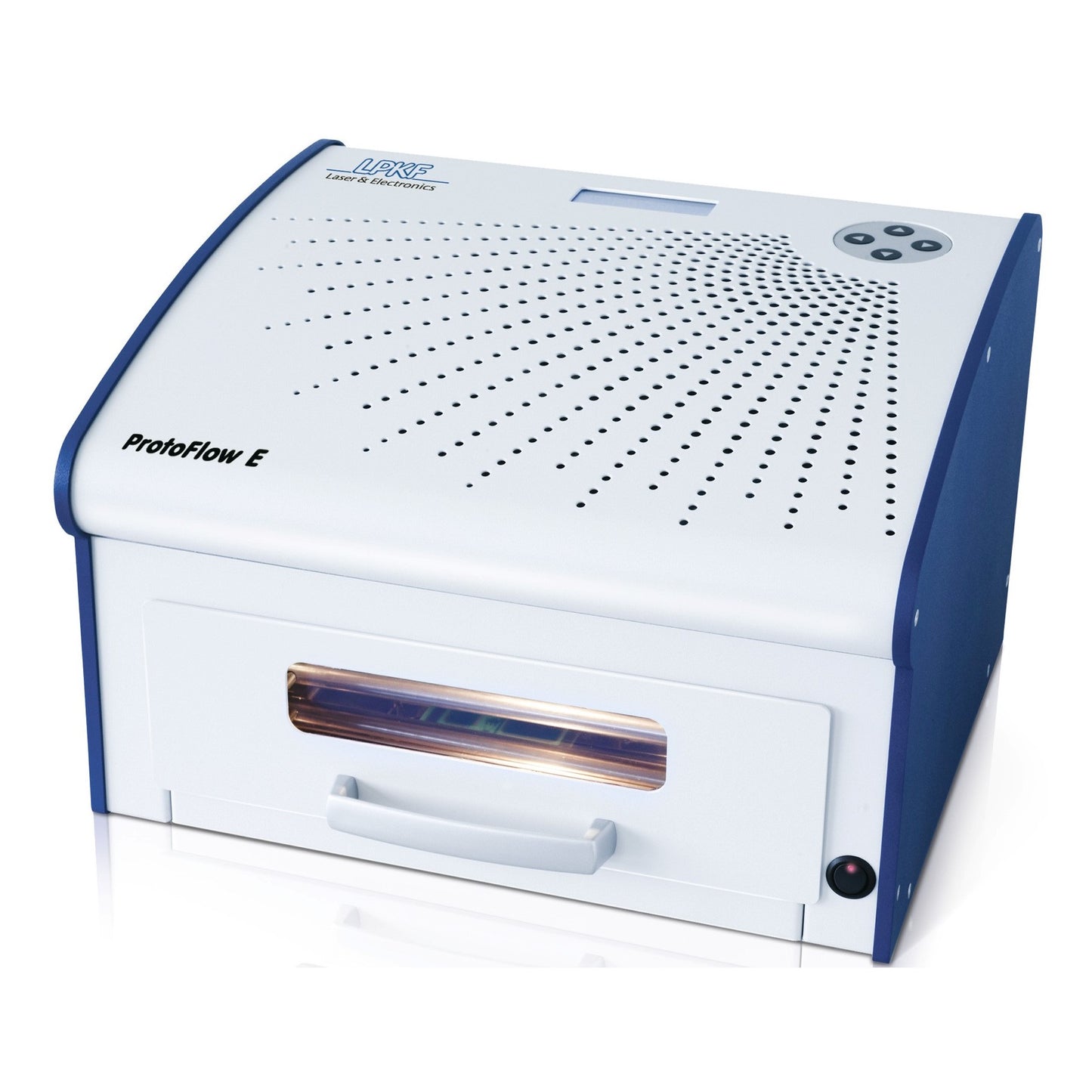 Have Questions? Need a Quote?
Leave a message or contact us for a discussion!
We would be glad to provide a customised solution for you.