ShuttleStar SV650 Semi-Auto Optical BGA Rework Station [Ex-Works]
Click here to contact our sales team
ShuttleStar SV650 Semi-Auto Optical BGA Rework station - Rework has never been been easier!
Hot air heater head and mounting head are designed 2 in 1, driven by step electric motor, and has both the auto soldering and mounting function. 
Three heaters (upper/lower hot air heater and bottom IR heater) heating independently, while time and temperature can be displayed digitally on the touch screen.
Upper heater is movable for a convenient operation.
Large movable bottom IR heating area, PCB clamps can be adjusted along with X & Y table flexibly to handle PCBs up to 550 x 500mm;
Powerful cross flow fans cool the bottom heating area rapidly with stable speed;
Color optical system with functions of split vision, zoom in/out and micro-adjust, equipped with aberration detection device; with auto focus and software operation function, 27 X optical focus, able to rework BGA sized up to 70*70mm;
Embedded industrial computer, touch screen interface, PLC control, real-time profile display, able to display set profile and 5 practically tested profile at the same time; can analyze the five practically-tested profiles;
Color LCD monitor;
Built-in vacuum pump, 60 °rotation in φ angle, mounting nozzle is micro-adjustable;
8 segments of temperature up(down) and 8 segments constant temperature control, profile saving is unlimited in the industrial computer;
Suction nozzle can identify material and mounting height automatically, and can control the air pressure within a small range of 30-50g;
Equipped with different hot air nozzles, easy to replace and able to locate in any angle.
Click to read SV-650 Introduction
Shipping Instructions: Ex-works, Singapore Warehouse
Application - ShuttleStar SV650 Semi-Auto Optical BGA Rework Station
Automatic dismantling of faulty devices
Clean welds and solder paste (solder paste or solder paste)
Automatic feeding, automatic counterposition and automatic mounting
Selection of temperature curves
Automatic welding and automatic cooling
ShuttleStar SV650 Semi-Auto Optical BGA Rework Station: Features
PCB & Component Requirements

Max. PCB size
550mm x500mm
Max. control area
120mm x 120mm
Max. PCB thickness
4mm
Max. BGA size
70mm x 70mm
Min. BGA size
1mm x 1mm
Max. BGA weight
80g
Vision System Specifications
Max. visible area
40mm x 40mm
Min. Pitch
.30mm
Micrometer Adjust Range
Front/Rear ± 10mm  Left/Right ± 10mm
Rotation Angle
60°
Thermal Specifications
Max. temp for hot-air heater
350° C
Max. temp for IR heater
400° C
Temperature control
8-Stage Programmable Temperature Settings
Top heater power
1200W
Spot heater power
800W
Bottom IR heater power
3600W
Dimensions & Power Requirements
Machine Dimension
850mm (L) 750mm (W) 630mm (H)
Weight
Approx 92kg
Power Supply
Single Phase, 220VAC, 50/60 Hz,
Share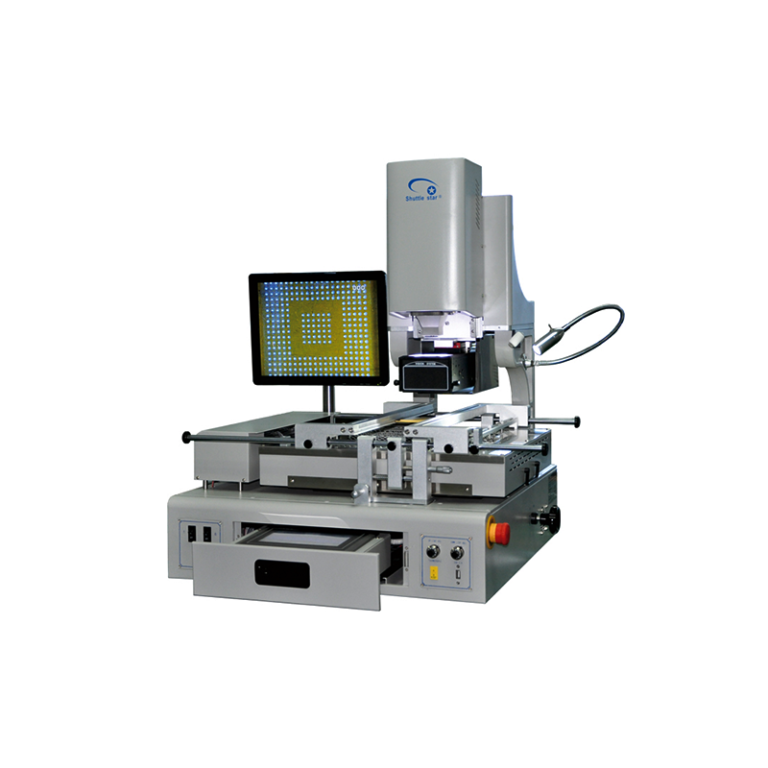 Have Questions? Need a Quote?
Leave a message or contact us for a discussion!
We would be glad to provide a customised solution for you.